Sometimes the little things can surprise you!
We've got huge computer issues in my house. We're O-soo-cutting-edge here. But our latest upgrade rendered my connection to the network printer just about nonexistent–painfully slow when it worked and sporadic in its choice of what it deemed worthily of ink.
So I decided, as a stop gap, I'd buy the cheapest littlest printer I could find. I could just put it on a table in my office and stop running up and down the steps to see if my print jobs happened. If they ever get the network set up right, then I could ditch the little printer and go back to the mother ship for quality.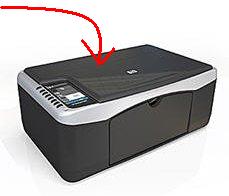 I bought a little HP Deskjet F2120 — all-in-one printer, scanner, copier. I paid about $39 for it at Target. There was just one printer cheaper at $29 but that only came with the color ink cartridge and the black cartridge was another $15, so I picked the HP. In fact, I did not know about the all-in-one virtues, or the OCR or the double sided print capabilities. I just wanted little and cheap.
What a surprise! This little baby is F A S T .. much faster, at least in the black and white mode, than the fancy Cannon we run on the house system. I'm not sure how it will last. But as most of what I print is just to read, mark up and then toss, I'm thinking this could be a nice little addition to my office equipment.