I do a lot of different jobs for lots of different people. Some is paid, some is volunteer. The paid work I have to be able to bill for. Some of the paid work has parts that are not paid. And the volunteer work, well, I'd just like to know how much of my day I'm giving away.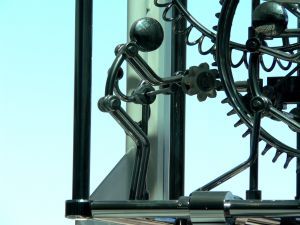 I just learned about a great program called Grindstone from Epiforge.
When you start working on a job, you click the name in the list you've made up yourself. And start the timer. When you're done. You stop the timer. At the end of the day, or the week, or any span of time, you can get a report that tracks your time by project, by task or by profile (which I currently can't quite figure out how to use). You can get a pie chart or a regular report. It's great! You can print out a time sheet!
And the best thing is if you walk away from your machine, it tracks how long you've been idle. And then asks what you were doing for that last period of time. You can set that interval for whatever best suits you. If you were doing something you need to track time for, you can manually add that time. Or you can just click the button that says Grindstone shouldn't worry about what you were doing.
I'd been doing pretty well using a Google side bar simple timer. Clicking to start and stop and then writing down the numbers in a journal. At the end of the month I look back thru it and tally up the numbers. But Grindstone is way more accurate.
Because the timer only keeps track up to one hour, and because sometimes I get so involved I forget about the time, then I might not know if that was 1 hour and 20 minutes or 2 hours and 20 minutes. Grindstone knows the right answer. And it's way more accurate!
Oh, and by the way, did I mention it's FREE!